THE LEXUS UX
EXPAND YOUR
HORIZONS
VIBRANT, FREE-SPIRITED, AND DYNAMIC, THE LEXUS UX LETS YOU DISCOVER A NEW DIMENSION TO LIFE IN THE CITY. WELCOME TO THE REVOLUTION.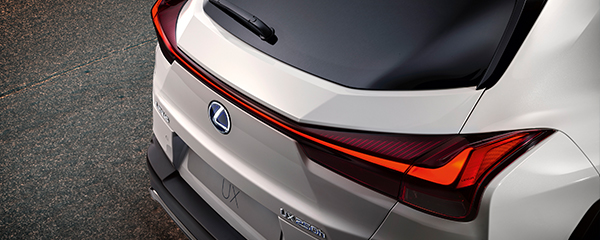 THE UX SERIES
THE MODERN URBAN EXPLORER. AVAILABLE FROM 2019.
By infusing a coupe-like elegance into the SUV's strong lines, the UX achieves a radical new look befitting the compact crossover of tomorrow.

The UX's immersive cabin design blurs the line between its exterior and interior, making them appear almost seamlessly linked.  

Unique rear lamps featuring a connected sequence of 120 LEDs create an eye-catching yet aerodynamic profile.


Experience the elegance of traditional Japanese craft-inspired design in details such as the UX's smooth leather upholstery. 

REVIEW

2019 UX FIRST LOOK

"Lexus managed to blend luxury, utility, and aggressiveness all into one highly attractive vehicle."


— Topspeed.com